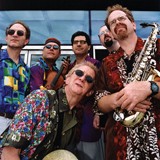 You wouldn't think a band that plays klemzer music — a traditional Jewish music based in Eastern European folk — would provide fertile ground for innovation. But with a resurgence of popularity among younger players in the past couple of decades, it has done just that. And Cleveland's Yiddishe Cup, formed in 1988 by clarinetist/sax player Bert Stratton, is right in there with them on their new release, Klezmer Guy, their first since 2004's Meshugeneh Mambo. While Mambo played it for laughs, injecting old-school Borscht Belt shtick into its raucous tracks, Klezmer Guy introduces influences like jazz, funk, reggae and hip-hop to its mostly instrumental music.
"We've been doing this for 20 years so it's very easy to stagnate," says Stratton of his recording strategy. "The previous record was a conscious attempt to put together a thematic record that was primarily funny. I didn't want to do that again. So what we did this time — it's a little bit like the Gene Carroll variety show. There's a little bit of something for everybody, which is how I like to do live shows. The range was pretty much the goal."
The band (which includes multi-instrumentalists Irwin Weinberger and Steve Ostrow, keyboardist Alan Douglass, drummer Don Friedman and dance leader Daniel Ducoff) plays weddings and bar mitzvahs, as well as concerts, festivals and cultural events where the crowd is more diverse. But they already have a CD, Klezmerized, featuring the genre standards, so they didn't need to revisit that territory either.
"We had already done the classic klezmer album 15 years ago, the chestnuts the bubbas would ask for at the gigs," Stratton says. "So we didn't have to go down that road again. You have the big three — 'Bay mir bistu sheyn,' 'Romania, Romania' and 'Tumbalalaika.' They are on 80 percent of all klezmer records."
Instead, on Klezmer Guy, you'll find things like a medley of melodies from science-fiction films, penned by soundtrack master Bernard Herrmann and arranged klezmer-style by Douglass. You'll find Ann Arbor Hawaiian steel-guitar master Gerald Ross giving a '50s tiki-lounge feel to "Hallelujah," a 1979 Eurovision song contest winner from Israel. And you'll find honorary group member, Stratton's drummer son Jack, bringing some reggae and hip-hop vibes to the 1918 tune "Yiddishe Blues."
One of the oddest collisions is the CD's opening track, "Anim Zemiros," a liturgical song sung in synagogues to close shabbat morning services — which the band spices up with a jolt of "Hocus Pocus," the 1971 yodeling novelty tune by Dutch prog-rockers Focus. In the midst of the craziness, the band demonstrates its mastery of the traditional forms on tracks like "Tsiganeshti" and "Hora Martisorului."
Expect to hear that same variety when the band headlines the Workman's Circle Yiddish concert at Cain Park, an annual free event (Stratton serves on the organizing committee). "One of the goals of the committee is to present this as gift to not just the Jewish community but hope that the wider community will show up too," he says. "We're going to do a lot of swing music that night, Yiddish swing. We've even got a swing version of 'A Hard Day's Night.'"
Yiddishe Cup will be bringing Ross down from Ann Arbor to reprise his Hawaiian steel-guitar touches, and also showcase a young Yiddish/Hebrew singer from Cleveland named Shawn Fink. South Euclid folk-dance troupe the Art of Dance Academy will open.
And those who've been following Stratton's daily blog will be happy to hear that he plans to continue it after the show. "Not every day, but maybe once a week. I've got enough stuff for a year without picking up a pen."