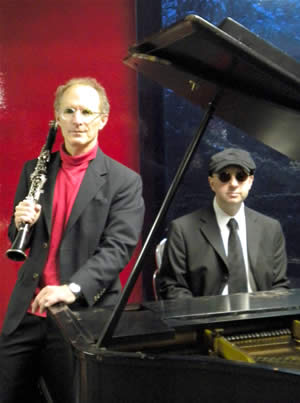 KLEZMER GUY is a neo-beatnik/nudnik mash-up of music, comedy, and prose. It's as if Mickey Katz hosted "This American Life." Hop in the Ford Tsuris for a clutch-popping trip through the states of klezmer, Yiddish swing, Tin Pan Alley and spoken word.
BERT STRATTON -- a.k.a. Klezmer Guy, and leader of Yiddishe Cup -- performs comedic prose sketches and plays clarinet, accompanied by chauffeur ALAN DOUGLASS on vocals and fuel-injected, mood-enhancing piano.
This show has no brakes.
Stratton and Douglass are founding members of Yiddishe Cup, the Cleveland-based band which has performed throughout the United States, including the Brooklyn (NY) Center for the Performing Arts, Boca Raton (Fla.) JCC, University of North Carolina – Greensboro, City of El Paso (Tex.), and the Chautauqua (NY) Institution.
Yiddishe Cup's music, produced by Douglass and Stratton, was in the movie Harley Son of David (Avner Levona, director; Canada/ USA, 2006; UK Jewish Film Festival, 2006) and the Jewish Museum's exhibit "Chagall and the Artists of the Russian Jewish Theater, 1919-1949" (New York City, 2008-09; Contemporary Jewish Museum, San Francisco, 2009).
The Klezmer Guy show should be in a museum too. It's unique. Speaking of which, the Klezmer Guy show (formerly known as the "Driving Mr. Klezmer" show) premiered at the Maltz Museum of Jewish Heritage, Cleveland.

---