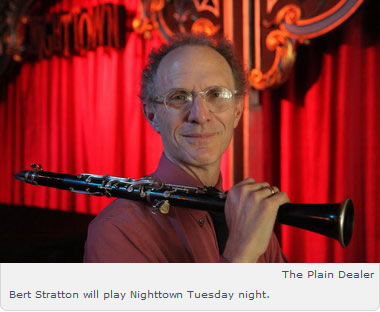 Bert Stratton is the bandleader of the Yiddishe Cup, a klezmer band, which he founded in 1988. He plays clarinet and saxophone. He lives in Cleveland Heights, and his day job is managing rental property. He writes "Klezmer Guy: Real Music & Real Estate," the go-to blog for klezmer-playing landlords. He also is a Heinen's grocery-store aficionado. Stratton will be performing words and music with some musician friends Tuesday at Nighttown on Cedar Road in Cleveland Heights. He spoke with PDQ's Michael Heaton about his various interests and obsessions.
What is "klezmer" music?
Klezmer music is instrumental Jewish wedding music from Eastern Europe. In the United States, klezmer was influenced by swing jazz. "Klezmer" means "musician" in Yiddish.
Please explain for readers the format for your Nighttown show?
It's a neo-beatnik, nudnik mash-up of spoken word and music. Nudnik is Yiddish for "pest," by the way. Our pianist, Alan Douglas, riffs behind me while I read vignettes from the "Klezmer Guy" blog (klezmerguy.com). I talk about tenants who paint their walls black and orange, and musicians who stuff smoked fish in their pockets.
We alternate the prose/music chunks with straight-ahead music. You'll hear "Wichita Lineman," "Bill Bailey," and "On the Sunny Side of the Street." Plus 13 kinds of klezmer. Jack Stratton, my son, is on drums and will do klezmer beat-boxing.
How did you first come upon the Beats?
Why do you ask? Because of my "neo-beatnik" comment? I liked Jack Kerouac's recordings, particularly the one with Steve Allen on piano. Kerouac read his prose, and Steve Allen backed him up.
Tell me about your vision of Jack Kerouac.

When I first heard Kerouac's recordings -- years ago -- I woke up in the middle of the night and started writing about the Cream-O-Freeze on Mayfield Road (South Euclid), where I grew up. Seemed right; Kerouac wrote about his hometown (Lowell, Mass.), and I wrote about mine. Cream-O customers asked for "chocolate toppers" -- vanilla cones dipped in chocolate. That was a slippery slope. Eventually, I was writing about Jack's Deli. It's all in the blog somewhere, with great illustrations by Ralph Solonitz. People love to read about food. If I write about bagels, the blog practically crashes from too many hits.
Have you ever traveled to the holy shrines of the Beats, New York or San Francisco?
I was in Allen Ginsberg's apartment on East 12th Street in New York. Not messy, by the way. I knew poet Ted Berrigan, who picked up Ginsberg's mail when Ginsberg was out of town.
Besides his writing, what else do you like about Kerouac?
Kerouac was a great reader. Listen to his "Mexico City Blues" on the recordings.
Do you have a favorite Kerouac book?
I liked "The Dharma Bums." It was short and to the point. Short appeals to me. For instance, nobody in my band takes long jazz solos.
How do you reconcile Kerouac's glorious early success with his sad, pathetic end?
He was a mama's boy and felt compelled to stay with his mother till the end. Full Cleveland, in a way. He was very family-oriented.
What does klezmer music have in common with the Beats?
Nothing.
You wrote a tribute to your mom and her devotion to Heinen's for Mother's Day that ran in The New York Times. Tell me about the different demographics for your favorite Heinen's stores.
There are three linchpins. I go most often to Herring Heinen's -- the one at Cedar-Green, University Heights. The store has a good selection of herring tidbits in wine sauce. Then there's High-End Heinen's at Lander Circle, Pepper Pike, with all the quality-prepared foods. Check out the wheatberry salad. Lastly, there's City Heinen's at Chagrin and Lee. That's got a big-city cosmopolitan feel. I want Heinen's to sponsor Yiddishe Cup's next tour. Them, or Corky & Lenny's.